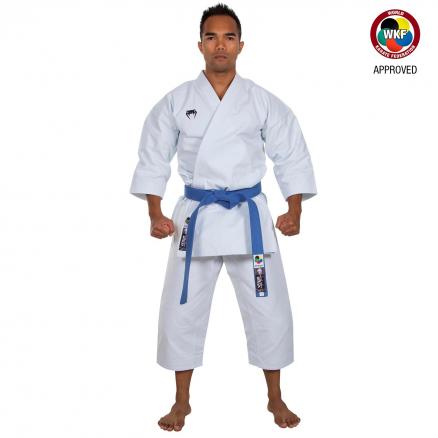 Venum Elite Kata Karate Gi – White
The Venum "Elite" Kata Karate gi is made with an ultra-heavy premium cotton fabric, for a soft feeling on the skin.
With its unique and unparalleled density, this Venum gi is ideal for Kata.
Thanks to its thickened collar and sleeves, the Venum "Elite" Kata Karate gi delivers a strong snapping effect and a perfect image.
The pants have been especially designed to fit perfectly and to increase your movement. Ideal for performing fast techniques and moves.
Designed for the competition, tested by Sandy Scordo, Antonio Diaz and Minh Dack – World Karate Champions – the Venum "Elite" Kata Karate gi is approved by the World Karate Federation and built to answer the needs of kata competitors.
TECHNICAL FEATURES
– WKF approved
– 12oz jacket with thickened collar and sleeves to deliver a strong snapping effect
– 100% quick dry cotton
– Made of durable stiff fabric
– Soft lining for an improved comfort
– Traditional waist with laces
– Inner decorated liner
– Venum logos on back and chest
– Venum Elite patches sewn with silver thread
– Comes with its personal lightweight backpack
– Weight : 1.0000